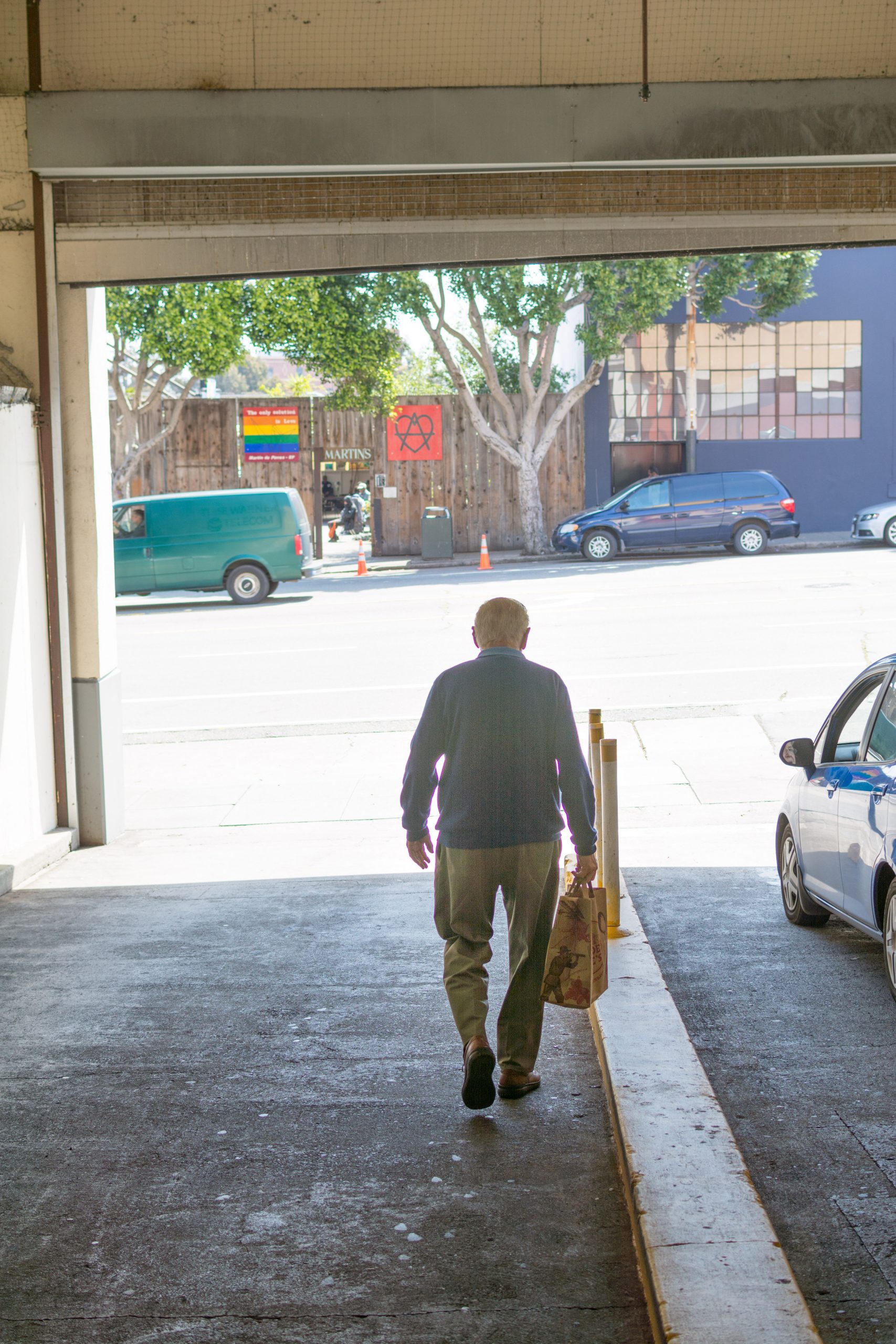 American chef and food activist, Alice Waters says, "the best way to create caring, compassionate, peaceful communities, is to bring people together around food." The folklore of "Stone Soup" reminds us that by coming together, everyone contributing what they can, the collective spirit of a greater good is nourished. Every Thursday for the last 18 years or so, my father-in-law Bob Cornell literally rolls up his sleeves to work at his local "Soup Kitchen" in San Francisco, Martin de Porres House of Hospitality. I recently joined Bob to photograph his community and unexpectedly became an active participant which permitted a more personal experience.
"And to think," said the monks, "to be happy is as simple as making stone soup."  
– Stone Soup, Jon J Muth
Volunteers Phyllis, Chef Stanley and Bob
Martin's House is probably not your vision of a "Soup Kitchen," but the name is only a label. Martin's provides food as well as health services to any person who enters their doors. All who visit are referred to as guests because the modus operandi of Martin's House is wrapped around three basic axioms: 1) The only solution is love. 2) Eating is a right, not a privilege. 3) Feeding the hungry is a matter of justice, not of charity.
After 60+ years serving the scales of justice as an attorney, Bob dishes out a different kind of justice every week at Martin's House where the guests affectionately call him "Salad Man." He arrives at Martin's by 10:30 AM to don his gloves for tossing dressed lettuce greens, elbow-deep in institutional-sized bowls. The bowls are so large that a rolling cart is necessary to transport them to the food service counter. Every dining table is adorned with a vase of flowers and any person requiring assistance is offered table service.
After the volunteers have eaten their soup just before noon, the guests are invited into the skylit dining room to line up buffet-style. Each guest is served a hearty meal of salad, bread, and turkey barley soup. Martin's Renowned Turkey Barley Soup recipe appears below.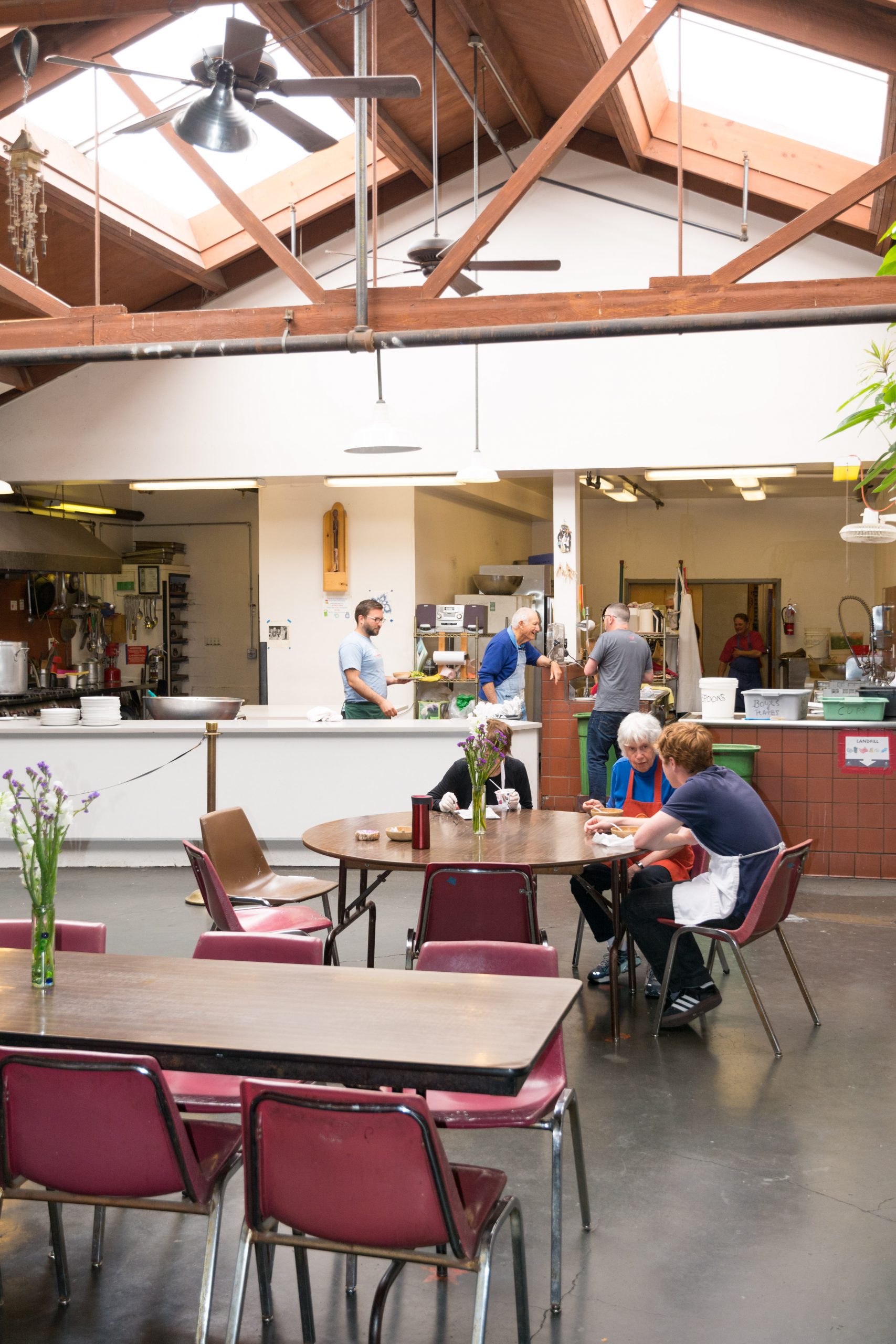 For two hours, Bob stands and serves. The buffet line is long and steady. He continually gathers and stacks more plates from the shelves as needed and serves healthy portions of greens to accompany each bowl of hot soup. With every serving, Bob throws in a good chuckle and an easy smile. I can't help but wonder what joy lies ahead for any of us caught up in the fast lane of life, knowing that service to others brings so much pleasure.
Martin's House ardently protects the privacy of its guests. The minute the doors open for service, I am kindly asked to put away my camera which is a blessing in disguise. To photograph is no longer my reason for being present. In its place, I fill jars of take-out soup and towel-dry washed soup spoons. For a few hours, I share in my father-in-law's Thursday community, positioned just behind the food service counter where I can see his smiling face as he serves one guest after another.  A guest plays tunes on the upright piano which blankets the room in a calm levity. I marvel at the many varied walks of life flowing into this sunlit room amongst images of the Dalai Lama, Mother Teresa, Jesus Christ and the Buddha. This food service happens quietly every day, seven days a week. As I thank Bob for inviting me, please join me in enjoying Martin's soup recipe set forth below.
Martin's Renowned Turkey Barley Soup recipe is exactly that and more. After adapting Martin's recipe which serves hundreds down to a more manageable size, I tested it out on my family. "This is the best soup you've ever made," they exclaimed. Your own family and friends are sure to enjoy Martin's Renowned Turkey Barley Soup recipe too. Add more or less of anything to suit your taste and use what you have on hand. If a friend brings you mushrooms or fresh greens, toss them in. Let this soup nourish your body and spirit, and provide you with reason to gather. The French word for food is nourriture from the verb to nourish which also implies that which nourishes the spirit.
Martin's Renowned Turkey Barley Soup
Author:
Adapted from Martin's recipe for three 20-gallon pots
Ingredients
1 turkey leg and ½ turkey breast, bone-in split breast (~6-7 lbs.)
2 onions, quartered plus 1 onion finely chopped
6 carrots, 3 cut into large chunks (broth) and 3 roughly chopped (soup)
black peppercorns, 10-12
2 pinches of thyme
1 bay leaf
1 cup uncooked barley (if pinched on time, pre-cook in 4 cups of water for one hour)
3 tsp. salt
1 tsp. each dried oregano, parsley, garlic powder, cumin, ground pepper.
2-3 tsp chili powder
1 TBSP dried basil
Tomato paste, 7-9 oz.
1 red or green bell pepper
6 cups of chopped kale or other greens
Instructions
Martin's Kitchen starts by making its own base of turkey stock to thin with water as necessary. Make your own the night before or in the morning using this recipe here. Store bought works great when time does not permit.
Put turkey leg and breast, bay leaf, 1 pinch of thyme, peppercorns, onion quarters and 3 carrots cut into large chunks into a stew pot large enough to cover meat with water and bring to a boil. Simmer, covered for 2 to 2½ hours. Skim excess fat off the top as needed. Keep checking to add more water to stock as it evaporates.
Pull turkey leg and breast from stock after 2 to 2½ hours. Set aside to cool. Strain stock and return to pot or pour into large pitcher and refrigerate for later use.
After the turkey has cooled, pull meat off bones and shred with fingers or a fork. Set aside or refrigerate for later use.
Bring the stock and salt to a boil. Whisk in tomato paste and spices & herbs (oregano, parsley, garlic powder, cumin, ground pepper, chili powder and dried basil) and add finely chopped onion.*
Add 1 cup uncooked barley and return to a boil. Stir. Reduce to a simmer. Check and stir every so often to keep barley from sticking to bottom of pot. Simmer for 35-40 minutes until barley kernels are soft and their midline cracks have split open.
Now add the turkey meat and return to a boil. Add kale, bell pepper and chopped carrots or whatever vegetables you have on hand. Always add vegetables last. Return to a boil. Turn down heat to barely a simmer, pot uncovered, until vegetables are cooked and flavors have melded well. Taste and add more spice or salt as you desire.
Remember to make this soup your own. There are as many versions of this soup as there are cooks.
* Martin's Recipe reads "add a pot of onions prepared by the onion-choppers who have been working since at least before dawn."